EAST NORRITON TWP., Pa. - A manhunt is on for a 17-year-old accused of opening fire inside a busy Montgomery County bowling alley Saturday night.
Jamel Barnwell, of Upper Darby, is facing first-degree murder charges in the shooting Saturday night at Our Town Alley in East Norriton.
Authorities say five people were shot, and one of them, 29-year-old Frank Wade, died at the scene.
The victims, who are all related, were at the bowling alley together when Barnwell and two other "suspects" enter the building, according to the district attorney's office.
"The defendant (Barnwell) hands his cell phone off to one of the men with him at 6:41 p.m., and then at 6:42 a physical altercation begins between Jamel Barnwell and the victim, Frank Wade," said Montgomery County DA Kevin Steele.
Barnwell then pulls a gun and begins shooting. The three men then flee the bowling alley, leaving behind three cell phones, one of which belonged to Barnwell, Steele said.
The DA could not say whether Wade and Barnwell knew each other, but could say with certainty that Barnwell should have never been armed.
"What we can tell you is that this defendant should not have had a gun. He is 17 years old and he is now wanted for murder, and he is armed and dangerous," Steele said.
Barnwell is believed to have used a .45 caliber gun with an extended magazine, similar to the one he's seen holding in a picture released by the DA's office.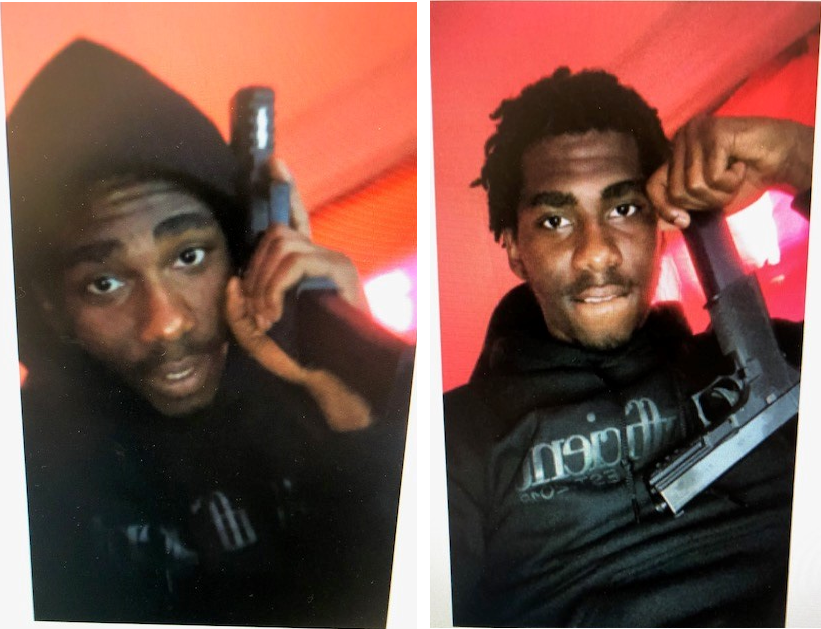 As for the nearly 75 people, including many young children, inside the bar and bowling alley at the time, they're still processing it.
"I was just laying in bed this morning and it's just, you just never dream you're going to be around something like that," said Gary DiMariano.
He and his wife, Patti, were there for only five minutes when the packed bar and bowling alley turned to panic.
"We just ordered a drink and we heard a pop, and then looked around, and then it just started rapid fire, and I told my wife, I said, 'come on, those are gunshots,'" he said.
They say dozens more shots rang out after that, sending people rushing to find safety.
"My biggest fear when I was running back, I literally thought we were going to be shot in the back because I just didn't know, you just don't know if somebody's out there with a gun," said DiMariano.
The DA is pleading for the public's help in finding Barnwell and the other two men. Authorities say Barnwell is considered armed and dangerous, and anyone who sees him or knows where he may be should call 911.