WASHINGTON - A self-described left-wing activist who publicly shared video he recorded of last week's assault on the U.S. Capitol is now facing federal charges for his alleged role in the riot.
John Earle Sullivan, the 26-year-old founder of Utah-based Insurgence USA, a group that promotes racial justice and police reform, has been charged with three federal violations in connection with his actions at the Capitol and his interactions with law enforcement, according to the FBI's arrest warrant and affidavit of probable cause.
Sullivan told investigators he was wearing a ballistic vest and a gas mask when he followed the crowd of protesters past the Capitol Police and into the building through a broken window on the afternoon of Jan. 6.
Sullivan voluntarily provided the FBI with approximately 50 minutes of video he recorded at the Capitol, saying that he was only there to document and report on the events that were unfolding, according to the court paperwork.
The evidence, investigators said, appears to show otherwise. An agent who reviewed the video said Sullivan can be heard saying, "Let's go. This s*** is ours! F*** yeah," as he and others approached the building. "We accomplished this s***. We did this together. F*** yeah! We are all a part of this history," and "Let's burn this s*** down."
Once inside, Sullivan can be heard on the video saying to others, "We gotta get this s*** burned," and telling officers to stand down so they don't get hurt, according to the court documents.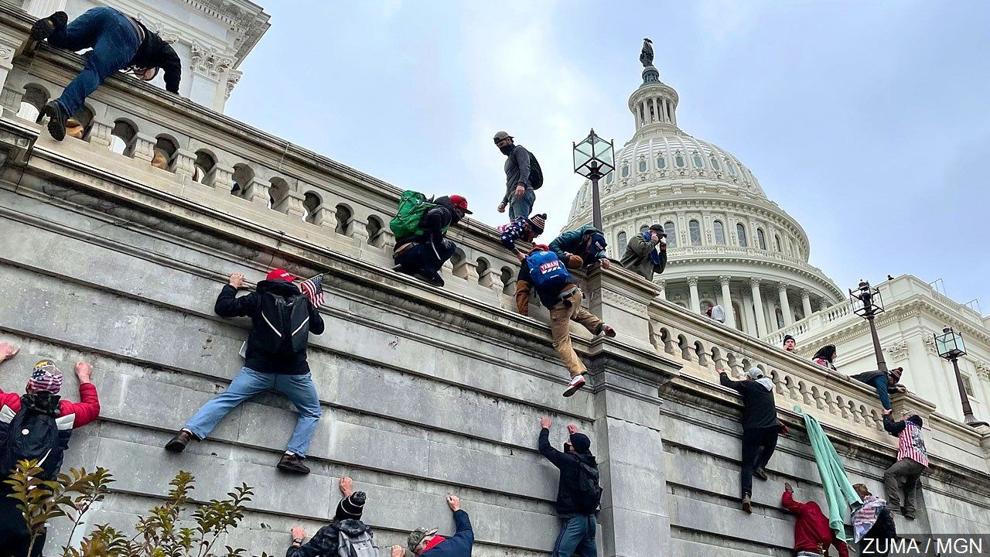 The agent who reviewed the video said Sullivan later admits to breaking an office window and then joins a crowd in trying to open doors to another part of the Capitol. His video also shows a Ashli Babbitt being fatally shot by Capitol Police outside the House chamber.
"I just remember, like, the sense of shock and sorrow that somebody just died and didn't need to die, because she didn't have a weapon," Sullivan later told CNN in one of several interviews he gave to media outlets after the riot. "She wasn't being violent in anyway."
In another interview with the Desert News, Sullivan claimed that he chanted and appeared to join in with the violence because "when you're in a massive crowd like that, you have to blend in."
The FBI agent said Sullivan can be heard on the video telling others that he has a knife, but he later denied having a knife in his statement to the agent.
In addition to the federal charges in connection with the Capitol riot, Sullivan is facing charges of rioting and criminal mischief in connection with a protest in Provo, Utah, on June 30, 2020, according to the federal court documents.