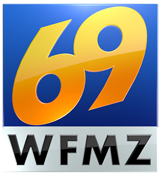 Our coverage area is an unusual geographic market: the Lehigh Valley and Berks County. It's the third largest business district in Pennsylvania. This includes Lehigh, Northampton, Berks, and Carbon counties in Pennsylvania, and Warren County in New Jersey within the Allentown/Bethlehem/Easton, PA/NJ MSA. It also includes portions of Monroe, Schuylkill, Bucks, Chester, Delaware, and, Montgomery counties in Pennsylvania and Hunterdon, Mercer, Burlington, Camden, and Gloucester counties in New Jersey.
WFMZ-TV programs 93 live half-hours of original local news each week. This equals over 2,416 hours of local news, weather, traffic and sports each year. Our Berks Edition newscast is dedicated to Reading and Berks County. To serve the Hispanic community, WFMZ-TV employs a full Hispanic news department, which produces a Spanish-language newscast each weeknight at 11pm airing on 69.1. WFMZ-TV has a seasoned team of award winning news journalists that viewers in our area depend on for local and regional election coverage, school closings, and live reports when news happens.
Our program schedule includes popular syndicated shows, local sports, entertainment, classic family shows and religious programming. We also feature several live and taped local programs throughout the year.
WFMZ-TV also programs a 24/7 69News Weather Channel on our digital channel 69.2. This channel is a destination for up-to-the-minute weather forecasts and information. In addition to live traffic/weather cameras and radar maps, a team of local meteorologist provide an updated forecast every 15 minutes.
We also provide the local community with news and information on wfmz.com and our Smartphone Apps. These include our news app, weather app and 69 WFMZ Live app. News is continuously updated throughout the day to serve the needs of the community. Our monthly viewership continues to grow dramatically. Our online product has received excellent reviews and is highly successful as an advertising medium.