FORECAST SUMMARY
This stretch of cool, breezy and wet weather will continue into Wednesday afternoon with periods of rain and drizzle, especially or the first half of the day.
Finally, low pressure will depart allowing high pressure to build into the area and bring much drier and warmer conditions briefly.
The next fall front will push through Friday, but it will come through mostly dry. It will also bring noticeably cooler temperatures for the upcoming weekend as highs dial back into the upper 50s to around 60 degrees both days.
We could see a few locations drop into the 30s late Saturday night and early Sunday morning with the potential for some early season frost!
DETAILED FORECAST
WEDNESDAY
A stubborn coastal low pressure system still remains offshore wrapping in a decent amount of rainfall and gusty winds. The rain will continue into Wednesday afternoon before drier air moves in later in the day.
An additional inch or so of rain is possible today depending on where heavier pockets set up which could lead to ponding or localized poor drainage flooding.
Temperatures will also remain cool with high stuck in the 50s and lower 60s.
THURSDAY AND FRIDAY
High pressure should build overhead briefly Thursday, and by then, full sunshine will finally return.
Along with brighter days, expect warmer temperatures, more seasonable, in the middle and lower 70s both days.
Overnight low temperatures will fall into the 40s and 50s amid mostly clear skies.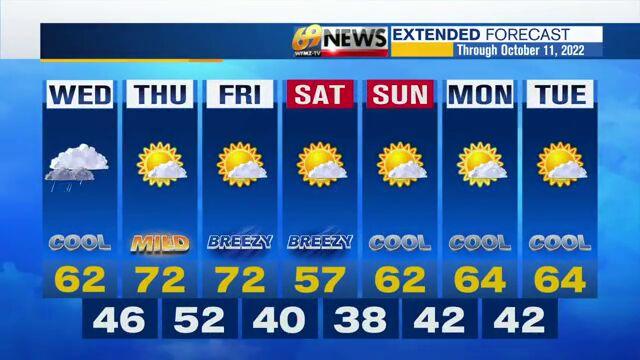 Our next cold front will cross over Friday and it'll be a mostly dry front but will certainly bring in much cooler air Friday night and into the weekend.
WEEKEND
After the passage of the aforementioned front, temperatures will take another tumble as the weekend begins. So, afternoon highs will have dropped back to the upper 50s and lower 60s.
If you haven't brought out some warmer clothes or turned on the heat yet, you may be doing that this weekend!
Temperatures overnight will likely fall to the upper 30s in some backyards. Perhaps if skies are clear enough and the wind settles down there could be some early season frost possible, mainly in the Poconos!
TRACK THE WEATHER: