FORECAST SUMMARY
Summer officially began Sunday night at 11:32 PM EDT and today will be the first full day of summer, and it will certainly feel like it with temperatures reaching the 90s and high humidity levels.
A more vigorous cold front is expected to slide through the area Monday evening into Tuesday bringing with it widely scattered showers and t-storms. A few storms may be on the strong side, mainly later this evening.
Also, it appears more and more likely that Tropical Depression Claudette will track well to our south, sliding off the North Carolina coast and then heading northeastward over the open Atlantic throughout the day. Claudette may actually re-strengthen to a tropical storm as it re-emerges back out over open water but regardless, we won't see any direct impacts from the storm, however those with beach interests along the Mid-Atlantic and Northeast coasts will want to be weary of rough surf and rip currents the next couple days.
On Tuesday, we can say good-bye, for now, to the summery temperatures as highs fall back into the 70s and humidity also takes a tumble. We'll get spoiled again later this week with a pretty nice and refreshing stretch of weather!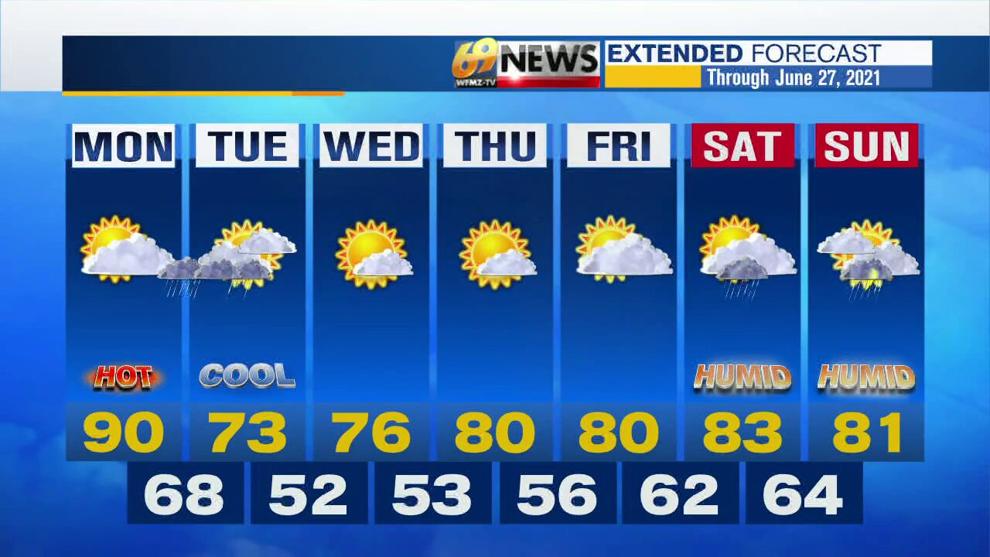 DETAILED FORECAST
MONDAY
In advance of a cold front, a south to southwesterly wind flow will make for a hot and humid day with a mix of clouds and sun and afternoon highs approaching 90 degrees.
While much of Monday should be dry, late in the day, a few storms created by the aforementioned cold front may start to work into areas west of the Lehigh Valley. As we get closer to sunset then, and heading through Monday evening, the rest of the area will likely have a better chance to see a shower or t-storm as our cold front moves closer.
Some of these storms will have the potential to become severe with damaging winds and large hail the main concerns. Right now, the Storm Prediction Center has much of the region highlighted under a "marginal" or "slight" risk for severe weather. Stay alert!
TUESDAY
Our cold front will slowly cross the region Tuesday leading to a mostly cloudy and much cooler day along with the continued opportunity for showers or a thunderstorm. Dew points and humidity levels are expected to drop big time Tuesday, so don't expect a severe threat for the day.
High temperatures however will return to the low and mid 70s Tuesday which will be quite the difference compared to Monday. Late in the day Tuesday, we might see drier times with a little clearing as our cold front moves offshore.
MIDDLE TO LATE WEEK
After the passage of the cold front Tuesday, we'll welcome back refreshing air and low humidity midweek. The dry and pleasant weather we enjoyed most of last week will return for another visit as the jet stream takes a dive to our south while surface high pressure originating from Canada and the Great Lakes builds overhead.
The result will be partly to mostly sunny skies from Wednesday through Friday. Highs Wednesday should be in the mid to upper 70s, then the numbers return closer to seasonable levels around 80 degrees Thursday and Friday.
Nighttime lows are also expected to return to some comfy cool levels during this period well down into the 50s.
NEXT WEEKEND
The first weekend of summer looks to be a classic one. Temperatures in the afternoon should be in the low to mid 80s, it'll feel a bit humid out, and there's a chance for a few pop-up storms.
Forecast models show a developing low pressure system and cold front passing through, but the confidence on timing and impacts is low as we're still several days out. Right now, it doesn't look like a washout and we'll fine tune the forecast in the days ahead. Stay tuned!
TRACK THE WEATHER: